Whitney Biennial 2017 Evolves Beyond Precious, Pretentious Or Tired
The 2017 Whitney Biennial, the first at the new spacious downtown location, is a total home run. Form, function and fun come together. The curators make brilliant use of Renzo Piano's sprawling architectural design and none of the art is precious, pretentious, or tired. Piano designed the museum with a grid in the ceiling to allow flexibility for installing walls at will and this show, set up like a maze, took full advantage of Piano's vision. There is a lot of L-shaped corners throughout the cavernous space that creates mini galleries. The cubed off sections help viewers to focus and hone in on the 63 artists one at a time. The little cubbies become commas between thoughts and give viewers breathing room and intimate time to ponder while wandering around the sections. Even though there's a plethora of images and concepts, in this year's Biennial, you never feel overwhelmed or visually exhausted.
 
Upon entering the front door lobby, colourfully worded banners hang from the ceiling, the creation of artist Cauleen Smith. Smith marries text and texture in shapes reminiscent of medieval shields or family crests. The sexy colours and tawdry trims have a showgirl feel, but the messages embroidered on the banners, for instance, "I am so black that I blind you" are of urgent protest. These messages are in light of the ever more frequent marches taking place across the globe in pursuit of freedom and equality. These banners are scattered throughout the exhibition as part of a procession and are meant to read like film stills of our troubled times.
As you get off the elevator on the 5th floor, the first of the two floors reserved for the Biennial, you are hit face frontal with a large and angry Dana Schutz painting. Titled 'Fight in Elevator', the commissioned work shows people squashed between closing (or opening) doors. It is quite the greeting! It makes you glad to bypass that wall and enter the main space to see the show. Here is the formal beginning of the exhibition with large wall text mentioning Tiffany & CO. Jeweller's sponsorship of this (and the next two) Biennials. Curiously, besides the Tiffany signage hangs an oversized industrial saw blade embellished with pretty painted rocks. The relief sculptural assemblage is by the hot young artist Torey Thorton. The piece is titled 'Painting' and uses prepainted rocks which were found in both NY and LA. Here again, like the elevator painting beside the elevator is a subtle curatorial metaphor. Subliminally, there is a relationship between Tiffany's practice of creating a diamond from a rough stone into a faceted gem and Thorton's artistry of making a beautiful artwork with rocks and a chainsaw. Is art becoming a new jewelled accoutrement?
On the opposite end of the spectrum, is an artwork made out of bologna. Yes, Pope.L aka William Pope, lined both the inside and outside of his exhibition room with multiple slices of real life, school lunch, sandwich style bologna. To make matters more startling, he impregnated each slice of bologna with mini portraits of Jewish people. The purported Jews are sometimes hard to recognise. We know they are Jewish, only because the plaque with his artist statement says so. The plaque tells us Pope did not actually research or verify that his subjects were Jewish. The lack of veracity behind his bold claim is a comment on today's fake news. Data gathering is baloney. All I can say is that even on the preview of the show, the stuff was starting to smell bad! There was greasy fat drizzling down the walls from the bologna slices and it was pooling into toxic puddles along the box's border. Point well made!
The most strictly conceptual piece in the show is by the activist artist collective, called Occupy Museums. Occupy Museums sprung up concurrent to the Occupy Wall Street movement. Their mission statement reads "We saw a direct connection between the corruption of high finance and the corruption of "high culture."" They take offence with art for investment, as well as how art handlers are underpaid and undervalued by museums during these past years of record profits. They say, "As art workers, we stand in solidarity with this struggle. Our labour will be truly valued only when we kick the addiction to obscene wealth that characterises the American and international art world today." As part of their Debtfair project, for the Whitney Biennial, they selected 30 artists who share common economic conditions of debt. On display in their section are various objects by artists who have incurred debt with education or studio expense. Apparently, artist's loans and acquired debt have made the CEO of the world's largest holding company, BlackRock, rich. BlackRock's CEO, Larry Fink, is a collector and on the board of MOMA. They have a quote from him displayed on the wall "The two greatest stores of wealth internationally today are contemporary Art and apartments in Manhattan'. The message here is 'Shame on you Mr Fink for capitalising on artist's hard sweat'.
There is a lot of wonderful painting for the sheer pleasure of painting, throughout the exhibition. Most of the paintings fall into the 'figurative ' category. Carrie Moyers is perhaps the painter that bridges both those categories. Her large colourful canvases are at once abstract but subtly anthropomorphic. Each piece begins with loose washes and then is outlined on top with structured shapes. Maybe that is why they suggest a human body. One senses the flow of liquids underneath the forms, just like our bodies. Moyers is remarkable for achieving something new in abstract art. Moyer's paintings are off set by the artist Jessi Reaves' 'Ottoman and Parked Chairs' made from Plywood, polyurethane and upholstery foam with tapestry blankets. Reaves has his functional furniture throughout both floors, providing artistic yet comfy seating. Of the other painters, Shara Hughes stands out for her fun, fabulous and energetic landscapes. The hyper-bright colours and repeated oval swirls remind me of what Matisse might have painted if he took LSD. Two more established painters represented in the show are Henry Taylor and Jo Baer. Henry Taylor has a compelling piece, done in his sophisticated yet simple ' outsider' style. It is called 'THE TIMES THEY AINT CHANGING FAST ENOUGH' which narrates on the tensions between the police and racial communities. It is stunning and important work. Jo Baer, an octogenarian, has really beautiful masterful landscapes that arise both from her imagination and research she has done in the prehistoric time of County Louth in Ireland. The paintings are endlessly beautiful and strike a spot in our collective unconscious.
Light has a staring role throughout the exhibition. The new Whitney building is blessed with floor to ceiling windows that bring light inside. One artist, clearly this year's star, Raul de Nieves, covered six floors to ceiling windows with eighteen 'Stained glass' panels he made using paper, wood, glue, tape, beads and acetate sheets. At night they are lit from inside the building and shine towards the world and during the day they colour the floor from the incoming light. The stained glass story narrates a spiritual tale of fantastical proportions about the transmigration of birth to death. The painter Tala Madani, also focuses on light. Human light! Her series depicts the human form as filled with a light that illuminates the world.
Light, through the lens of a camera, abounds in a variety of video and photographic works. Artists in this category run the gamut of focusing on homelessness, climate change, walled in immigrants, disparate neighbourhoods and violence. 'Real Violence' is a 90-second virtual reality experience guaranteed to leave the viewer with posttraumatic stress. Admittedly, I skipped donning the headgear, after learning that you witness a white man brutally beating another white man with a bat to the sound of Chanukah music. I waltzed instead towards the windowed room filled with budding delicate trees. It is a work by Asad Raza called 'Root sequence, Mother Tongue'. The 26 outdoor trees are meant to flower indoors throughout the show, thanks to special lighting and gardening caretakers the museum hired as part of the exhibition. The caretakers nurturing makes them akin to artists as we witness the joint creative forces bloom.
While this Biennial is filled with socio-political concerns, I must stress that the strong visual appeal of the art and artistry tempers the charged messages. Historically, artists are the preachers and prophets of their time. This show does speak to the turbulence of today, but it does so in poetry. While clearly keeping a finger on the pulse, no artist overplays or overstates his or her point. There are gorgeous, challenging, thought provoking pieces that all seem to say: now is a time we must keep our eyes open.
 
Armory Show 2017
It's a week of art fairs in New York. The Armory Show, held in a crowded, bustling convention center on the Hudson River is the biggest of the fairs and indicative of the art markets changing economic landscape. The cost of exhibiting in the Armory is astronomical and dealers loath to take risks. Seeing cutting edge revolutionary art is like learning a new language – it takes time to understand any radical shifts in art and absorb what it all means. Wandering through the two huge cruise-ship piers doesn't foster profound consideration or deep contemplation. Perhaps for this reason, large and pretty paintings by famous artists, paintings that are safe and easy to place in any collector's home, dominated this year's show. There were numerous works by Kusama ( Top Photo Victoria Miro Gallery) , Joseph Albers and other tried and true luminaries. For an art fair in the epicenter of the art world, there were very few surprises.
A few conceptual works spoke to the current political times and are worth mentioning. The Recycle Group, a team of two 30-year-old Russian artists, use industrial materials to challenge consumerism, question our technology driven contemporary culture and highlight the tension facing the art world today. Andrey Blokhin and Georgy Kuznetsov's installation included a large weathered log found on the grounds of their Krasnodar home and inscribed with the words "E Pluribus Unum", (out of many, one) suggesting we are all united.Carved into one side of the log was the iconic "G" of the Google logo. The piece, executed in 2015, before the present political upheavals of Brexit and the Trump presidency, touches upon technology and privacy in the age of the internet and questions political appropriateness. Another piece by them at the Suzanne Tarrrasieve Parisian gallery entitled The Ten Covenants is composed of rubber made from recyclable material and is engraved with the Google iCloud terms of an agreement. The Recycle Group will represent Russia at the 57th Venice Biennale this year.
Outside of the Kavi Gupta gallery "Rebus" by artist Glenn Kaino, is a pyre of 'burning' organic wood sticks topped by two gold-plated heads draped in a white cloth, The sticks, handles from protesters signs and the charred remains of those signs, are engraved with demonstration slogans. It's an intellectual and mind-boggling contradiction, suggesting the cleansing of trials-by-fire. The smoky flame emanating from the "burning" sticks is made from water vapor – light bulbs beneath the piece have been mixed with water to produce vapors- thus the illusion of fire is made from water. The white cloth atop the stack of a smoldering stick is meant to denote a flag of surrender, marrying the opposing forces of outcry and acceptance. The
at the Berlin gallery KOW, jointly presented with the Galerie Fons Welters of Amsterdam were visually stunning and socially provocative. While producing the film "Enjoy Poverty" in 2008, artist Renzo Martens spent time in the Congo where he founded the Institute for Human Activities where the plantation workers sculpt using red river clay. The works are scanned digitally in three dimensions and sent to Amsterdam where they are cast in Congolese chocolate. The two pieces on view depict "Art Collectors," and the figures look somewhat suffering and exhausted. Profits from the chocolate art are reinvested in the community allowing the plantation workers to buy back land and invest in businesses for themselves. The aroma is enticing and additional pieces by the artists are on view at the Sculpture Center in Queens.
Inside the booth is an equally compelling piece, a stunning set of photographs by Irena Haiduk, an installation artist from Belgrade. Her photos of mannequins dressed in uniforms and cast from supermodels, are part of the Yugoexport mission and will be featured in the upcoming Whitney biennial. At the Whitney exhibit, internet activity will be routed through a .yu server, a now defunct Yugoslav state manufacturer and top domain. Visitors to the Whitney exhibit will be able to join the "Whitney Frauenbank". yu network, a co-operative women's domain Haiduk started, and purchase shares in cooperative projects and property endorsed by Frauenbank, a woman's banking cooperative.
Two Cuban artists, Diana Fonseca Quinones and Rafael Domenech were also worth noting. Quinones' abstract and colorful pieces were seen at both Sean Kelly and Art Aprartamento booths and are made from layers of peeling paint mounted on wood. The"Degradations" series reflects Cuba's changing political climate and the cultural peeling away of repression. Rafael Domenech's work at Fred Snitzer's booth takes many forms including colorful chandelier type structures made of fluorescent bulbs, plexiglass, and aluminum. The one- of- a- kind objects sing in relationship to his other works represented in the booth including additional hanging works, wall works, and sculptures on plinths.
The booth with the most buzz was that of Jeffery Deitch who paid tribute to Florine Stettheimer, an icon of the Jazz Age, a painter and society hostess with modernist sensibilities. The American bon-vivant a la Gertrude Stein,mounted exhibitions of her work along with those of her contemporaries in the early 20th century in a Manhattan salon-setting. One of her most famous paintings, a beach scene of primarily African-American figures, is displayed alongside other women artists influenced by her style. The magenta-colored booth framed by plastic curtains is a mini 'art fair' and includes works by Cecily Brown and Laura Owens, The works speak eloquently to each other over a time period from 1934 to the present and even the curated furnishings within the booth are delightful. Deitch Project's booth is welcoming and provides a microcosmic way to offer exciting new work successfully in an historical context.
George Boorujy, an Artist Highlighting and Protecting our Precious Natural World
Artist George Boorujy feels particularly pumped to take on the environmental cause, especially since 'Day One' the Environmental Protection Agency has been quieted with regard to global warming. Boorujy, an artist devoted to highlighting and protecting our precious natural world says, "This shouldn't be a partisan issue! Democrats, as well as Republicans, need to breathe. The environment affects the Rich, Poor, Black, White, Urban, Rural, male, female, trans and other. All of us eat food, drink water, and breathe air to stay alive". No argument there. He also pointed out, "You can reinstate certain civil rights that are taken away, but once you destroy a habitat, you can't bring it back in four years."
Boorujy's work has always featured animals. The animals, while not quite anthropomorphic, subliminally allude to human behavior. His realistic, anatomically correct renderings of distinctly recognisable species portray a lot more than 'A bear' or 'A bird'. The animals in Boorujy's work relay familiar and relatable feelings. The subjects are rendered close to human size because viewers tend to react to an animal differently when it is large and on a human scale. Boorujy says, 'When I paint animals I can express human emotion better than I can in a painting of a person". When you look at pictures containing humans you get distracted by hairstyles and clothes. Animals are raw. They take your guard down. I find them a much more effective vehicle for expressing human emotion. Through my paintings, I look to find the feelings we all share." For animals, who don't have a lot of 'things' it is easier to see the underlying value that life itself is the most precious of treasures.
Even if you are not an animal lover or nature enthusiast (mea culpable) it's impossible to walk past a Boorujy piece without stopping to look. His compositions capture an active moment as it is unfolding. The immediacy of the drama within each piece pulls you in. Similar to a car accident on the highway, while you may not intend to look, you can't keep your eyes away! It is likewise, with these powerful works. Boorujy says, "The first step to caring about something is to know about it. And many of us are illiterate to the natural world. That puts the environment, AND the US at risk" We are more interconnected than we realize. We all fall prey.
Boorujy has been interested in Florida and its animals for over 20 years. He went to the University of Miami initially to study Marine Biology but he ended up majoring in fine art. Painting the environmentally challenged Floridian animals is a merger of both of his loves. Rather than documenting the rising sea levels and destruction of Southern Florida in scientific photos, Boorujy feels a handmade painting slows the viewer down to invite contemplation and consideration.
After learning about the environmental threats to wildlife in Southern Florida, Boorujy decided to use his art to shock and shake up his audience. He says it would be easy to use his masterly artistic techniques to paint pretty pictures that distract or entertain people. He would probably make more money if he did offer easier pleasing 'Zombie abstraction ' art pictures. Instead, he reminds us that we can spend our lives in pursuit of lazy enjoyment or we can live purposefully. He is an artist with a purpose. He paints with compulsion and reverence to shine a light on the intersection or crossover of human's behavior and nature.
His watershed moment was realizing that what he was looking at right now, in Florida, would no longer be! He passionately explained, "The elevation of Southern Florida in many places, especially the Everglades is barely above sea level. Within our lifetime we are going to see a major loss. Let me stress: Within our lifetime! Clearly, we see now, more than ever, our governments aren't going to solve the problem. It's on us now".
Boorujy continues to work on the Florida series even though he now lives and works in Brooklyn. Another ongoing project of his 'The New York Pelagic Project' has a similar but more conceptual bent. Boorujy places one of his exquisite labored 'bird' drawings inside an etched and sealed glass bottle. Boorujy then tosses the bottle into New York City waterways to meet its fate. He writes "It's hard not to picture the bottle in the middle of the ocean, in the middle of the night. Calm water with snow falling, strong storms, searing sun, endless drizzle. Reflecting lights of passing ships, being nosed by a whale. And eventually reaching land again." Well, after 3 years at sea, one of his bottles (now with barnacles) washed up in Bordeaux France. What is particularly stunning is that his 'art adrift' was found by an artist! The artist, a 65-year-old woman, had been walking the beach after a horrible storm that left the shore littered with dead fish and "poubelle" (smelly garbage). When she saw Boorujy's message in a bottle, she eagerly opened the seal and wrote in English back to him. " Thanks for the drawing, the cormorant is "magnifique". I'm 65 years, I'm so happy to have found this bottle. My husband and I are going to contact the association concerned by the birds, and also by the "no respect "of the environment. Thanks for your action!"
Words: Lizanne Merrill © Artlyst 2017 Photos Courtesy George Boorujy All Rights Reserved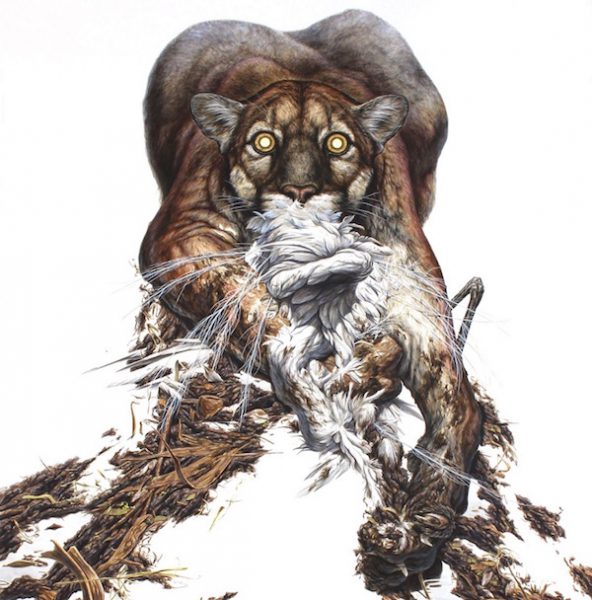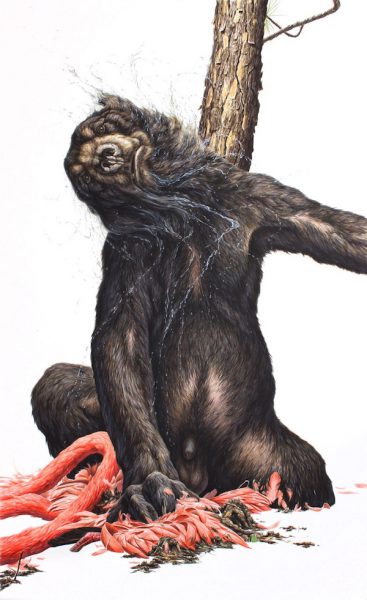 Liliane Tomasko Bridging Reverie And Reality Marc Straus NY
I would argue that the hardest thing to do, for a seasoned, well-trained, and technically savvy artist, is to paint like a child. After an impressive education at London's top art academies, how on earth do you find the faith to follow an innocent impulse? For artist Liliane Tomasko, it was motherhood that forced the new phase in her art practice. "Watching my young son draw with such direct expression of emotion had a profound impact on me. Having a child opened me up, and made me more carefree, experimental and ultimately more willing to push boundaries." All the paintings in her exhibition at New York's Marc Straus gallery were made in 2016 with raw, joyous, confident and deeply felt flair.
Tomasko's work has always been anchored in the physical realities of domestic life. She started out making sculptures, photographs and ultimately these beautiful paintings, based on towels, clothes, and bedding from her home. She literally paints the fabric of our lives. "I paint what I observe in the domestic sphere. That is where human beings are most themselves, where they live. That is why I use the example of the bed. Everyone sleeps in one and it's where you have your dreams. It's where you travel. It holds your impressions." Tomasko's earlier series 'Stacks' and 'Dark Corners' were more literal in the representation of domesticity, even though the reference photos were close up and blurred. The earlier works are somber and still, while the new work in her series 'Beds' is colorful, kinetic and free. The vaporous shapes in these new pieces seem to move as you look at them. Each canvas of vibrant colliding colors offers infinite avenues for your eyes to wander.
The paintings in this exhibition began with photographs Tomasko shot of the unmade 'family' bed, which she shares with her husband (and frequently) their son. Tomasko transfers the bed photos onto the canvas and draws in pencil the creases and crevices of the sheets. The drawings become the skeleton or armature's for her 'pure painting'. The original object of the bed is not evident. The drawings are merely her launchpad for the unexplored. As she is painting, Tomasko intuits a collective energy of the family's dreams. She allows the hidden nocturnal dramas within the sheets' folds to unfold. Her painting technique will bypass reason to grip the core. "Just as kids have no boundaries and no concept of the future. Watching my son has taught me to live, love and paint in the present moment."
We talked about dreams: dreams as journeys dreams as revelations, dreams as a way of exploring a connection to what we sense but do not fully know. Personally, I admit, I too have often wondered about the mysterious nature of our dreams. "The bed is the perfect metaphor of how our existence feeds our psychological life. Dreams are a path or a connection to something else. In our dreams, there is a schism between a familiar feeling and a feeling of not knowing what is happening". I find it no coincidence that Tomasko, who was born and raised in Switzerland, does art that references the great Swiss psychologist Carl Jung. Jung argued that there is an inner knowing that goes beyond the personal. Curiously, when Tomasko was young she had scary torturous and horrifying dreams, which went away once she went to art school!
Tomasko hasn't had a bad dream in 20 years! The paintings in the Marc Straus show reflect her happy art practice within the domestic harmony of her life with husband, Irish/American painter, Sean Scully, and son Oisin (Gaelic for little deer). I asked Tomasko if she always makes her bed. "You make your bed every day like you make your reality every day. You perceive it and make it. I will, however, leave the bed unmade until late in the day, just to catch a certain light in my photos. Eventually, I will make the bed even if it is right before we go to bed. I want to get it ready for another dreaming session."
Words: Lizanne Merrill Top Photo: Self Portrait By Liliane Tomasko © Artlyst 2017 All Rights Reserved Photo Middle Installation shot courtesy Marc Straus
Liliane Tomasko January 5 – February 10, 2017, MARC STRAUS 299 Grand Street New York, NY 10002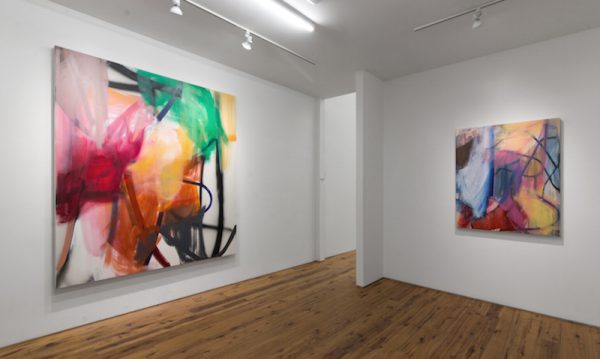 80's Art Star David Salle On Seeing Art The Way Artists Do
In his new book'How to See: Looking, Talking, and Thinking about Art' 80's art star David Salle aspires to teach nonartists to see art the way artists do! I was eager to hear what Salle had to say to Lorin Stein, editor of 'The Paris Review' when Salle was interviewed for a book launch, co-presented by BAM and Greenlight Bookstore. Salle started off saying artists will ask questions like: "Does this line have conviction?" Salle said that artists can look beneath the surface of another artists work. Artists can glimpse the inner veracity in the undercurrent of an artwork's creation. Good painting, he said, requires an acute presence of mind that muscular motor skills marry. He likened painting to catching the pass of a football or playing the cello. Artists, unlike actors, cannot create authentically if they inhabit another person's spirit when they create. How do we know when a painting is true? Salle says "a good painting looks forever immediate".
Salle did note, by the way, that his use of the word painting or his addressing primarily painters, is meant as a synonym for all art forms.
Salle gave examples of how the purpose and personality of an artist rhymes with their brushwork. Georg Baselitz, Salle said, "paints like a boxer. He forces you to lean in only to make you take one on the chin. Baselitz aims to bruise with visceral colors and slashing brushwork." Salle then mentioned he is a long-time friend of the artist Frank Stella. Salle asked Stella once, " Who is your favorite artist"? He was surprised to learn that Stella's favorite artist was Velázquez. This does seem curious considering how the charged political brush of Velázquez compares to Stella's seamless stripes and dots. Salle pointed out that Stella's clean linear abstractions are Stella's own way of expressing and ordering his complicated inner world. Stella's spirit speaks through conflicts of color in his controlled painting. Salle said a different era and a different training dictates the difference in the painting styles of Velazquez and Stella.
Stein asked Salle " Who are your favorite artists?" Salle cited John Baldessari (to whom Salles' book is dedicated) and Alex Katz. On the surface, these two artists are stylistically polar opposites. Salle said that what both artists share and what Salle cherishes, is these two artist's ability to uplift the banal into poetry. Salle showed a slide of a large landscape painted by Alex Katz. The image was a swamp in Maine. Salle admired Katz's seemingly haphazard hurried brushwork. However, Salle pointed out that Katz's 'controlled abandon' was preceded by a lot of preparation. Katz always rehearses for large paintings with sketches and smaller caricatures before he steps on a ladder to paint the final piece. Salle praised the freedom of paint application. He admired the perfect harmony between the shapes of the trees, forest, and brushstrokes. He called the Katz piece a masterpiece because the subject matter does not outweigh the style or vice versa. Salle admitted that in his own paintings, he has occasionally allowed greatness of subject to overtake the technique.
Salle spoke at length about his friend and mentor John Baldessari. Baldasari was Salle's teacher for 5 years while he was earning his BFA and MFA at Cal Arts. He recalled a moment that stuck with him from one of his early classes. Baldasari had told the students that self-loathing was an engine for art. Baldessari said that everyone has a dose of it and self-loathing was a positive force. For some reason, this comment by Baldessari, relayed by Salle, is what stuck with me as I walked home from the talk. I have always maintained that the difference between an artist and a non-artist is whether or not a person can forge past their reaction"this sucks" after they have made something. I believe, it is the grueling courageous commitment that an artist makes through the inner editorial process that develops into mastery. Reflecting on Baldessari's statement, I realized self–loathing (present company included) is actually a feeling that comes from a deeper expectation for greatness. If one can accept the challenge of prodding beyond one's perceived mistakes and limitations then one can find one's authenticity and draw that line with conviction.
The Diminishing Landscape Of The Mid-Range Art Gallery
A few weeks ago Christie's New York and Stropheus Art Law hosted a panel dialogue entitled "Letting go of Brick-and-Mortar: The Future of the Gallery "The evening's speakers included well-respected gallery owners who, having recently closed their galleries, now work as advisers, agents and even pop up impresarios! The panel also included an art lawyer who spoke about the transactional and fiduciary legalities of art advisers and art agents working outside the system. The event couldn't have been timelier, as every day there's news of another beloved gallery's closure.
Nicole Klagsbrun, who started her highly esteemed Nicole Klagsbrun gallery in 1989, was the first to speak. I personally discovered some of my favorite artists in her Chelsea space before she closed her doors in 2013. Candida Hofer, James Nares, Rashid Johnson and Billy Sullivan, were among the notable artists she represented. Klagsbrun recalled her early career when the role of a gallery owner included nurturing artists. She spoke joyfully of her many studio visits to fledgling artists, how the artists she engaged with developed their aesthetic and how she and the artists grew together. "I used to feel a reciprocity with artists," she said. "In today's world, artists look to the gallerist to perform. A process that took years now takes three months to go from the studio visit to the auction house. It's alienating. " She lamented, " living through the creative process is gone! I find this not only from my relationships with artists but also in my relationships with collectors." She recalled a time when collectors would come in person to see shows and potential buyers would make phone calls or write letters to learn more about works of interest. She seemed to long for the joy she found in furthering a client's connoisseurship. Today, in the fast-paced world of art fairs, it's hard to foster a meaningful rapport with clients and art fair participation has become the integral part of owning a gallery. "With the wind of evolution" she said, "the role of art fairs is non-negotiable fairs are a binding must and artists love the exposure. 60,000 people are viewing a booth as opposed to a much lesser amount of visitors to a typical gallery show." Art fairs are an economic necessity for today's gallerist; about 40% of their business comes from art fairs.
After Klagsbrun formally closed her Chelsea gallery, she opened what she called a small "project space" showing a limited number of artists. She tried again to capture the magic she found discovering and developing contemporary artists. Sadly however, "the project space still felt like part of the, machinery of the system". She now has a small office and spends her time collaborating with existing galleries to mount one-off exhibitions. In 2015, along with Jeffrey Deitch and the Cameron Parsons Foundation she presented an exhibition of work from the estate of Cameron entitled Cinderella of the Wastelands. In January of this year, in her office space, she organized the show Twenty-One Watercolors, by Peter Schuyff, Currently Klagsbrun is promoting work by a young exciting ceramic sculptor Brie Ruais, while also representing the estate of street artist Lee Quinones. She plans to continue doing pop up shows for both young and mid-career artists. " I'm back to a flexible pace that I can dictate. I can enjoy having relationships and not feel like a mere conduit within the art market ".
For 30 years, Jay Gorney, another giant in the industry, worked in galleries. He too, has recoiled from the confines of a brick and mortar structure and is now an independent art advisor and curator. Gorney entered the art scene in the 1980's, an exciting time. He began his career working at the Sidney Janis gallery, before opening the Jay Gorney Modern Art gallery in 1985, During the gallery's 13-year run, Gorney mounted exhibitions of Richard Prince, Michelangelo Pistoletto, Barbara Bloom, Joseph Kosuth, James Welling, Haim Steinbach, and Sarah Charlesworth. In 2000 he partnered with John Lee and Karin Bravin to form a new venture, Gorney, Bravin and Lee. Five years later he became director of Mitchell - Innes & Nash's Chelsea gallery. In 2013 he decided to leave the confines of a gallery and become an independent art adviser and curator. A longstanding friend of the Sarah Charlesworth family, "I've known the children since they were babies," Gorney's work includes acting as a special advisor to the estate of Sarah Charlesworth.
Today, real estate prices and diminishing speculation in the emerging art market make owning a gallery more of a challenge. Gorney exemplifies the new normal for esteemed and now private dealers - pop up and collaborative gallery exhibitions. He's participated in the Independent Art Fair for the last two years. The Independent, housed in Dia Art Foundation's original Chelsea building, is a unique fair of quality presenters that present single-artist booths. In 2014 Gorney presented the young artist Mathew Cerletty while in 2016 he shared a booth with Derek Eller gallery collaborating in a show of Karl Wirsum drawings from the 1960s. Gorney believes that focus is shifting from young new talented artists to undervalued, under the radar and more established artists.
Consumers flock to the global art fairs with a frenzy that mimics the gold rush. Media coverage about the booming art market is endless. What has caused this monster of a market? Does the newfound fanfare in the art market emanate from the popularity of the art fairs? I think it comes from the clever maneuvering of power driven mega galleries. Artists and collectors are both scrambling to do business with a small handful of glitzy international galleries. Consequently, big box ,"gallery brands" are defining the focus of our attention . Even museums are turning to them for direction. Once critics like Clement Greenburg shaped and influenced the art scene. Today it's the mega dealers who, by having access to the largest share of the market, now determine the standard by which we value art. Are mega dealerships becoming our time's art historians? Are mega galleries determining the history of art?
Of the 600 galleries still alive in New York, how many will actually flourish and survive? Even the best of the mid-size galleries seem to be struggling. The opportunities to wander through edgy exciting exhibits of works from emerging artists are diminishing. Where will the public go, free of charge to discover new talent? " Browsing the Internet to view art is like having a wine tasting online," in the words of Anthony Hayden Guest.
Ultimately, artists need to have exhibitions. The "what's in it for me?" attitude driving today's artists, collectors and dealerships need to change. As Nicole Klagsbrun said "Artists need to have a home for their work. Artist's can only develop fully with representation that builds a base for their story." Perhaps a cooling down in the art market will inspire a return to connoisseurship.
Words: Lizanne Merrill © Artlyst 2016 Photo: Barbara Bloom, The Reign of Narcissism, 1989, Mixed media installation, dimensions variable installed at Jay Gorney Modern Art, New York Collection of Museum of Contemporary Art, Los Angeles
David Shrigley
The newly installed sculpture, 'MEMORIAL' by British artist David Shrigley replicates an average grocery list onto a 17-foot slab of granite. The monumental sculpture stands at the entrance to Central Park in New York City, across from the famed Plaza hotel. The accompanying explanation on the Public Art Fund's signage reads " While Shrigley's shopping list might appear to posture as a counter-monument, through its celebration of a common activity, it's anonymity, and absurdity, the sculpture becomes a memorial both to no one and to everyone- serving as an ode to humanity". When I posted the Shrigley image of the shopping list on my Instagram, I put the hashtag #commondenominator.
Shrigley's 'Memorial 'is directly across from the large, gold-leafed bronze, 'Sherman Monument' made in 1902 as a memorial for (I guess heroic) US General William Sherman. The Sherman memorial is the kind of boring generic snooze of an equestrian public sculpture, which you see in every town, in every roundabout, here or abroad. Who even bothers to look at those larger than life neighing horses astride with triumphant figures from history? The Sherman monument also has within it, a gold-leafed bronze clinging woman standing beside the horse. I tried to find out who she may have been but could not find her name or meaning. So much for memorials actually memorializing!
I am sure Shrigley made note of the adjacent Sherman Memorial sculpture when he was considering how to interject his British sense of irony into this iconic NYC setting. The contrast between the two 'Memorials" is fierce! Don't we make a grocery "list" so we don't have to remember or hold the items in our mind? Grocery lists are also rendered useless after they have served their function. Could the same be true for those bronzed generals as time marches on?
Shrigley taps into, dare I say 'lasting', universality with his grocery list. As I stood with other invited guests at the Public Art Fund's launch party, a lively conversation ensued amongst the guests. "What!!! No ice cream!" The items on the list were assembled from the shopping lists of Shrigley's American friends. He sought commonality and removed Whole Foods elitist items such as Rice Wine vinegar. He also used American spelling for items such as Yogurt, which is written here without the H in UK's spelling of Yoghurt. One person at the event proudly told me that Shrigley's inclusion of Diapers came from her list. We compared notes about the items we too regularly purchase or as his New York dealer, Anton Kern said: "Oh I stay away from the Nutella". We collectively noted that coffee was not on the list. Hmmm, does that mean we all have specialty coffee pods specially delivered? (Mea Culpa). Or, are we to deduce that New Yorker's do not make coffee at home anymore, because we hurry and drink our coffees on the takeaway? A banal grocery list can read as a real time haiku of a New Yorker's life. Interesting to note, when Shrigley made a ( much smaller ) grocery list memorial piece previously, for his gallery in London, the British staples were : Baked beans, Aspirin and Biscuits.
Shrigley's 'Memorial' list got me thinking about other artists who used lists- to form art. There are actually many examples. Baldasari made list works such as "Tips for Artists Who Want to Sell" or more famously, Baldasari's "Terms Most Useful in Describing Creative Works of Art". I've seen reproductions of that one hanging, in artist studios! Christopher Wool used lists but he deconstructs the spacing and fluidity of words to turn the letters into graphic objects. Glenn Ligon poetically painted lists of highly charged racial words to describe the unconscious hymns of his identity. Among other noteworthy list works is the one by Tracey Emin, made in 1995, 'Everyone I Have Ever Slept with 1963-1995'. There were 102 names on the list. You do the math, but note some names were family members she had shared a bed with which further sets the mind a spin.
While the list pieces mentioned here are seeming of a strong conceptual nature, Shrigley's grocery list seems, by contrast, frivolously full of wit and whimsy. This is where I must mention the poignant actual aspect of "Memorial"s chiseled granite. Yes, it does resemble a gravestone marker. The fabrication, FYI, was actually done by a renowned memorial maker in Georgia. The delicate push/pull between the impermanence of the grocery list items and the solid permanence of 'Memorial's granite stone make you stop and ponder. As we ponder, Shrigley accomplishes what all great art aspires to do. He hits the intersection of temporary and timeless straight on! In 'Memorial' we glimpse the ephemeral through the ordinary. What are the daily provisions listed upon the head stone meant to suggest about the measure of our lives? We are what we ate? Or does Shrigley imply that in the end, are we merely the summation of our small daily karmas? Game on.
PS: On a lighter note, David Shrigley will have a 32-foot tall bronze rendition of a "thumbs up" mounted on the 4th plinth in Trafalgar Square later this month! Enjoy.
Words/Photo: Lizanne Merrill
Jesse Krimes
Marking Time in America: The Prison Works (2009-2013) is not a summer curatorial flirtation with an artist just out of Grad School. Instead, the current show at Chelsea's Burning In Water gallery is by an artist fresh out of prison! The artist, Jesse Krimes, recently served a six-year period of incarceration. While Krimes was an artist before he was placed behind bars, his time – doing time, certainly expanded his art practice in ways they don't teach you in school. In his own words, "After I was stripped of everything societal that made up my identity, the only thing I had left, was what was inside of me. The only thing prison couldn't take from me was: my ability to think, create and have a positive impact." Krimes said that it was only after incarceration that he found his true identity and power and fully realized "I am an artist".
The artist, Krimes (and yes that is his given name) was an Emerging Artist in Residence at Millersville University in Lancaster, PA when the United States Government indicted him in 2009. He was arrested for possession of cocaine. His first year (pre-sentencing) was spent in solitary confinement, in a maximum-security ward, confined to his cell for 23 hours a day. The series of work he completed during that year is called, not surprisingly, 'Purgatory'. With no access to art materials, he used prison-issued bars of soap to do portraits by delicately transferring images from newspapers onto the soap. The images initially were from mug shots and crime-related photos in his local newspaper. Newspapers were basically the only link he had to the outside world. The series grew to embody people from 'outside' the penal system but whom Krimes considered 'offenders that just weren't caught'. Ultimately he made 300 portraits, which are now assembled into one stirring piece. 'Purgatory' has also been exhibited at the Palais de Tokyo in Paris.
Krime's portraits on worn down soap have an eerie ephemeral quality. The faces are faint and beckon for careful attention. The people depicted appear to be fading away. The medium of soap gives the work fragility. The faces ask to be seen before they are potentially washed away.
The soap works which Jesse made in his cell, had to be hidden from the guards. Krimes carved a secret inner compartment inside a complete deck of playing cards in order to hide each soap work. He used the positive nib of an AAA battery to cut out the middle of each individual card within the stack of cards. So 300 soap portraits meant carving out 300 decks of cards as well. They were then smuggled out of the facility. Through the assistance of other inmates, Krimes was able to get the soap works to the mailroom and they were sent to an art historian he knew from school.
Creating these works in prison was definitely a survival strategy. Krimes had thought of himself as an artist before but was not 100% committed (he was only 23 when he was arrested). In prison, however, he found that he had to produce artwork compulsively. It was a strategy for keeping his sanity and also trying to control some aspect of his circumstances. After 'Purgatory' he created an epic work called 'Apokaluptein 16389067 '. Unlike 'Pergatory', 'Apokaluptein16389067' is colorful and fanciful. It is done on stolen prison bed sheets and when assembled spans over 40 feet wide.
Perhaps due to the bed sheets, 'Apokaluptein', reads as a dream. Krimes depicts a mythical landscape far removed from his physical space. It is a place his demons and angels can dance. The images within each panel were crafted by using a spoon to smooth hair gel over clippings from newspapers and periodicals, including Artforum andArt in America! There are also drawings in pencil throughout the panels. There is a faded 'fresco' quality to the transfers that mixes with the phantasmagoric content to remind one of an old religious mandala. It is inspiring to witness such greatness of imagination in such bleak circumstance. While his being was in lock down his spirit soared to explore alter realities. Once again, the art was done in secret and Krimes created the sweeping piece in small fragments. He envisioned the entire piece as he worked on the individual panels over three years.
Currently, Krimes is working on a large-scale sculpture involving plastics that are melted to create organic-seeming forms. When he merges printed images on plastic and burns them together they appear like shards of glass. The work is a little like Dale Chihuly sculptures, but involving text. The piece will be lit from within and projecting light onto the gallery walls, to create an immersive experience. Also, Krimes is doing a complicated exploration with Google image search algorithms, where he reproduces images in sizes that correspond with their prevalence on the web. Krimes had had no access to the internet while he was locked up for those six years. It is fascinating and important for him to grasp in real time how society is defined now by the internet and social media's communications.
I asked Jesse about his experience navigating the art world, post-prison. He said " In prison, you really learn human psychology and figure out pretty quickly how to read people and how to gauge the power play when you are interacting with others. It's a matter of survival." He added, " I met some of the kindest and most generous people amongst the 'throw-aways' of society". He went on to say "I was also stunned by the levels of cunning within the inmates." His relationships in prison have given Krimes a razor sharp ability to pinpoint sincerity and that has made his dealing with the art world interesting. When it comes to art dealers, He said he walks away from any energy he thinks is suspiciously trying to take advantage of young artists. He also avoids people who are into his work for the sensational aspect of his prison time. Krimes will exhibit his new work this spring, at Burning in Water gallery. Gallery owner, Barry Malin said "Part of the motivation for the current show was to put all the prison work out there in an attempt to clear the slate a little bit so he has more freedom to follow his own artistic impulses and interests going forward." Krimes does aspire to eventually be recognized for work besides what he did in prison. His goal is to one day be "Jesse Krimes the artist...who was once in prison" rather "that prison guy who made stuff with soap."
Donald Trump's Hair Parodied In New York Art Installation
New York: Precisely because a big shot Real Estate mogul is positioned for America's next president, it is a good time to reflect on the meaning, place and power of Real Estate development. An exhibition GUT REHAB does just that! The show, ironically, is held in a working realtor's office (!) called Realty Collective, in Red Hook, Brooklyn. The show uses it's bourgeoning Red Hook neighborhood as a fish bowl to examine the dynamics of spatial occupation, not just in New York city, but globally, beyond national and international lines. Artists, of cross disciplines, were given the words: Air Rights-Colonies-Co-ops-Development-Drones-Food-Fronts and Backs-Garbage-Gentrification-Grocery stores-Habitat-Landscape-Maps-Migration-Occupation-Parks-Public-Private-Racial Isolationism-Real Estate Legistration-Redaction-Schools-Sculpture-Sidewalks-Stoops-Sustainability-Territorial….. to creatively riff on. The project includes an ongoing exhibition of artworks, as well as events, performances and it's very own newspaper.
The exhibit is the brainchild of Rachel Owens, an artist who has lived in the Red Hook Brooklyn neighborhood for many years. She has seen this location, which in 1990 was listed as the most dangerous neighborhood in ALL of America, to a place where, merely 25 years latter, multi million dollar townhouses are being built and sold even before the construction is completed. The Real Estate office 'Realty Collective'' which is hosting the GUT REHAB show is also listing same such properties. Realty Collective's website touts "At Realty Collective we believe Brooklyn is the greatest place to live, to create, and grow." As someone who lives in Brooklyn, I whole-heartedly agree. I love living in Brooklyn because of it's home grown ethnic and economic diversity. "This land is my land, this land is your land…this land was made for you and me". I applaud the Realty Collective office to both develop the Red Hook area and simultaneously support the artists who are living within its borders. If you think about it, Artists have always been inadvertently complicit in the gentrification of negligible neighborhoods. The artists and galleries are often the first colonizers. Once artists move into a neighborhood they make it cool. Presently, Red Hook is a very mixed use area and finger's crossed it retains it's quaint, funky, mom and pop shop charm where artists can continue to afford to live, as the surroundings blossom and begin to welcome the upper echelon into it's fold. After all, the new tony owners will be the ones buying the art the artists make. I am a firm believer that the glass of water is always both half empty and half full.
The first artwork you see upon entering - is by Rachel Owens called 'All of Brooklyn From Gowanus to Coney Island'. She made this piece for this show. It is a stunning glass menagerie reproducing (in broken glass and resin) the 7 objects the Dutch West India Trading Company paid the Nyack Indians for this afore mentioned region of Brooklyn. The objects the colonists traded and which Ms Owens singularly depicted here are: 6 Coats, 6 kettles, 6 small looking glasses, 6 axes, 6 chisels, 12 knives, and 12 combs. She also includes, in her signature glass sculptural style, seashells and bricks. The seashells, she says, represent abandoned housing (clever!) The bricks were cast in glass from actual bricks that were taken from demolished manufacturing buildings in Red Hook. While the glass objects are meaningful they are also beautiful to look at, and look through!
Less visually appealing, but equally conceptual, are the framed letters received by Red Hook resident and artist Richard Fleming. His piece 'Collected Letters' are examples from his extensive collection of Real Estate junk mail. The works exhibited are specifically unsolicited letters he has received in the years since 2003, when he became a homeowner. The letters are seductive inquiries about selling his home. While fascinating to read, the letters are also relevant to recent history. Red Hook is on the water and was hard hit during the super storm Sandy. Post Sandy, developers bought out desperate homeowners in deals that mimic the one the Dutch pulled off initially in Red Hook.
On a less local and more global scale, are the 3D printed sculptures by artist Art Jones. The artist recorded ambient sounds in what he calls 'De-gentrified Zones' around the city. He fed these audio files into a 3-D printer creating what are titled urban futurist architecture. Jones says, " the responsibility of the artist in the midst of this reality is to document that which is, but soon may no longer be". HIs display also includes a building he lived beside while he was on a US State Department artist residency in Pakistan. Mr Jones was ultimately removed from the residency after being identified as American and threatened by local gangs. What does that say about land, ownership, territory, habitation and so forth! On the subject of ownership, young artist, Jennifer Dawson offers 4 stacks of(hand signed on the back) postcards to take with you. The imageson them are selfies she took of herself cradling artworks by Giacometti, Nevelson, Bourgois, and Belmer. Apparently, the artist is employed as a personal assistant to an art collector. In her accompanying artist statement she says" I claim their collection as my own. Millions of dollars held in my bare hands." Hmmmm
The show also has a few video works (but of course). One is an animation by Tricia McLaughlin, where she uses a 1917 speech by Emma Goldman on 'Patriotism' called 'A Menace to Liberty'. McLaughlin uses red and blue animated apes to relay the sentiment that Goldman espoused back then claiming Patriotism is a tool to self promote and make monetary gain. I won't state the obvious here in reference to the current political situation. I will segue though into a piece I didn't see but absolutely love. I saw an image of the artwork on the cover of the exhibition's newspaper. It is called 'The Trump Hut'. It is an actual livable wigwam crafted out of Mexican straw into the shape of Donald Trump's hair. The artists are Douglas Cameron, of Canada, Tommy Noonan, from USA and Roxana Casillas from Mexico. The materials are Wood, Oaxaca Straw, Luxury Hotel Rug, Solar Powered Decorative Lights, Ikea Stools and Champagne Cooler. The hut is too big to fit through Realty Collective's front door but the hut was positioned out front on the sidewalk for the opening of the show. 'The Trump Hut ' will be transported and used by protesters during the upcoming Republican National Convention. In keeping with today's Republican zeitgeist from it's star Real Estate presidential nominee, the artists are providing 'The Trump Hut 'because"it brings luxury to protesting and commands respect'
Words: Lizanne Merrill ©Artlyst 2016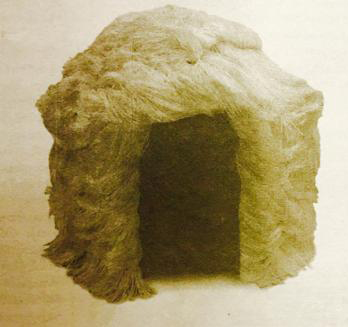 Early American Landscape Painting The Seed Of American Exceptionalism
The American architect Louis Kahn once said "Art does what nature can not do". I often think about that quote, in my ceaseless wonder of the best installation artist I know, Mother Nature. The exhibition 'a certain kind of Eden', at Burning in Water Art gallery in Chelsea, exquisitely explores the relationship of the artists' creation in response to those by Nature.
Burning in Water Art, is the new kid on the block in the Chelsea neighborhood. A former surgeon, Barry Malin, the gallery's founder, decided to share his art collection with the world, via purpose driven, activist oriented exhibitions. This show, his second, is a group exhibition of works, which address both the fragility and resiliency of the natural environment in the face of looming ecological threats. Works in various media by Matthew Brandt, Kadar Brock, Sam Falls, Valerie Hegarty, Cristina Lei Rodriguez, Kasper Sonne and Philip Taaffe are included. Many of the works were created on site-specific locations and involved nature within the process of it's making. For example, Mathew Brandt traveled America to photographically document the endangered bodies of water within the country. Brandt collected water samples at each lake site and used that same water within the photographic development process to alter and affect the once natural beauty of the scene represented. The polluted water he uses becomes both the subject and the object of the photos. His work is oddly beautiful and disturbing at the same time. Another artist in the show, who fully engages the natural elements in his art making is Sam Falls. The show includes a sculptural piece made of logs, which came from his childhood back yard in Vermont. He dipped the logs in various dyes with the help of his mom. Falls collaborates with sunshine in his large painted tarps that hang on the wall. The canvas tarps were initially primed with dyes then overlaid with ropes and then left in the sun to fade. The shape of the rope remains sharply beside the sun bleached colors. Very pretty and lively pieces which celebrate the power of our planet's ever renewing daylight. Danish artist Kasper Sonne uses the natural element of fire in his burnt canvas called Borderline. He apparently ran around with the canvas on fire as the wind controlled how the canvas burned. Sonne's other work in the show is from a series called TXC. Those works are not done with exposure to the elements, but instead are made from exposure to the toxic industrial chemicals threatening nature's survival.
I attended an artist talk hosted at the gallery between the artist Valerie Hegarty and Hrag Vartanian, editor in chief of the esteemed cultural newsletter Hyperallergic. Hrag and Valerie have teamed up for public talks in the past when Ms Hegarty's work was shown at the Brooklyn Museum. The conversation went form zero to unbelievably interesting very quickly. While the topic was purportedly on the art included within the exhibition, the underlying political implications of landscape art became center stage. Believe it or not, the art speak shed light on today's (scary?) Republican rant to "Make America Great Again!"
Ms Hegarty's piece in the show 'a certain type of Eden' is a work from 2008 titled 'Return to the Catskills'. Her work is based on an 1859 painting with the same title by Asher Durand, who was one of the founding members of the Hudson River School. Ms Hegarty's version of Durand's painting, is a life size sculpture/painting with a realistically rendered three-dimensional tree that sprouts out beneath the gilded frame of her repainted reproduction of Durand's idyllic landscape painting. The appropriated Durand within the gold frame of Ms Hegarty's work is weathered and has holes that imply time has eaten away at the canvas. The distressed Durand painting within the artwork taps into the historic 'then', of romantic American landscape painting. However, like all great works of art, Hegarty manages to freeze a moment of time, all the while also actively letting the art breath.
Hegarty's reference to the famous Hudson River School sparked a conversation about America's early history. Artists from the 19th century Hudson River School art movement are what established America's identity of discovery, exploration and settlement. Unlike Europe, with its centuries old base of culture, America started less than 300 years ago out of wilderness. Instead of Caravaggio in awe inspiring baroque churches we have (or had) abundant virgin land. Early American painters portrayed the American landscape with cathedral style lighting in ways that suggest American is a God given opportunity to discover and conquer. The expansive empty vistas in early American landscapes lack habitation and look lonely. Rarely is there a sign of man. Occasionally you will see a tree stumped suggesting that the idealized virgin territory is begging for civilization. The utopian promise of these 'everything is perfect' paintings leave out a lot of the actual history of America's foundation. Both Vartanian and Hegarty emphasized that the scenery depicted in early American expansionist landscape painting was fabricated and never actually existed. The glorious forested tableaus were composed from compilations and are not plein-air renderings of actual sites. These landscapes serve more as a portrait of the American ideology to constantly build and reinvent itself. Ironically, a 50 story building is going up adjacent to Burning in Water Art's location.
Ms Hegarty related how she grew up in a faux Colonial house in Massachusetts. She imagined her great great grandparents were off the Mayflower. As she grew older she learned that her parents were immigrants. The early American artifacts on the fireplace mantel she latter learned were from the hardware store. She offered this personal history as a comment on today's hot topic of Nativism. Her parents had internalized American history as their own so they would feel a part of it and fit in. As an artist, she is constantly questioning and wiggling, within the context of art history. Where does she fit in?
If you look closely at the Hegarty piece in the show you will notice a little stuffed woodpecker on the upper left corner. It is pecking away on the outside of the frame. It appears to have escaped the interior painted landscape where perhaps the woodpecker once lived, but it is now turning against itself, seeking revenge and attacking the painting. The bird, like Ms Hegarty is poking holes. "Making something ,destroying something, and remaking something is an integral part of the art making process" says Hegarty. While things falling a part can cause anxiety, Hegarty embraces the decay. Decay is more real than seeking a false and simple narrative as shown in the original 'Return to the Catskills' from 1859 or implicit in the credo "Make America great again"
The strong sculptural veracity of the sculpture's tree roots are stunning. While the canvas painting on top is in decline, the tree looks to be growing. It is burrowing into the ground reclaiming the land. Vartanian spoke about the inherent link between land and ownership. Vartanian noted this even applies to Google maps. His comment reminded me of Tolstoy's revelation at the conclusion of War and Peace. Tolstoy says, that in the end, Nature owns everything.
Words: Lizanne Merrill Photo: Meredith Dawson © artlyst 2016
Frieze NY Roundup
Frieze NY Round-Up Lizanne Merrill Spots Sparkle At A Lacklustre Fair
The New York iteration of London's seminal Frieze art fair event, held on the idyllic landscape of Randalls Island was plagued with grey skies this year, in more ways than just the weather. Frieze's 5th season in New York, was lacking in spark. Very little was new. Very little challenged the status quo or inspired further thought. While I was largely disappointed, I did see a few works worth mentioning and sharing.
As I entered the majestic Frieze tent, the first thing I saw were two large sculptural pieces by Fred Wilson, flanking the entry to the Pace gallery booth. (Photo above) The pair of sculptures are the same two iconic images that have appeared in the Metropolitan Museum. In the Metropolitan museum's setting , these appropriations of ancient art challenge the veracity of what viewers think they are seeing, because the reproductions are realistic enough to appear authentic ancient art yet they are from a contemporary artist. One sculpture is of a life size black Egyptian goddess. The adjacent sculpture is of a white, half clad drapped European goddess. Black -white, east -west – culture's cradle. Seeing them at the start of the fair, I jotted in my notes, 'perfect metaphor'.
Across from the Pace booth was the booth of PPOW gallery. PPOW was showing paintings by the deceased and much-missed 80's artist David Wojnarowicz (Image Above) . Wojnarowicz 's colorful politically charged canvases juxtaposed to Wilson's nod at ancient civilization gave me a jolt. Artistically, we catapulted centuries. Clearly the ancient aspirations of balanced harmony next to the screaming colors of an aids activist from the 80's got me pumped and primed to explore the fair and learn more about the artistic concerns of today.
I was rewarded instantly right around the corner by CANADA gallery's au currant collection of hip happening artists curated by the hip happening artist Katherine Burnhardt. I guess one could say, culturally, we have moved from the classical 'idealized human' form, to the 80's art of 'political commentary ' towards today's obsession with 'things'. CANADA'S booth had an abundance of art all celebrating 'objects' . Bernhardt herself is known for making paintings about today's common denominators: pizzas, computers coffee and so forth. She thusly curated a lively booth crammed with art about 'things' we use and love. There were Sadie Laska's true to size painterly cut outs of jeans and leather jacket. I particularly liked the embroidered upon plastic shopping bags by Josh Blackwell- which actually can double as puppets! (Image Above) So far so good.
From there, I stopped at Salon 94's stunning display of paintings by Ibrahim El-Salahi. They hung a long large painting of languid dreamy intertwining brown skin women. I learned the painting was painted in prison. Apparently, El-Salahi was imprisoned in Sudan for 6 months because of his cousins anti government activities. There were also very recent and beautiful pieces of his on display. While the 85 year old artist has enjoyed exhibitions in London, he has not as of yet had representation in New York! The gallerist described him as a major bridge between African arts and Europe. Along the outside of the booth was a cascade of curvy, drawn and painted upon, vases by Betty Woodman. Always a pleasure to see her work, individually, and in this case well composed collectively.
Along the same lines as art I found fetching and lovely to look at i share: an Ellen Birkenblitt painting , beside a watermelon vase by Shio Kusaka at Anton Kern gallery. I also stopped and admired the paintings by Patricia Trieb at Kate Macgary's booth which I found both engaging and beautiful.
The WOW factor, for sure , went to Gavin Brown's wall of 'Puppets from Pruppa'. The Belgian artistic duo that made these dirty little guys are: Jos De Gruyter and Harald Thys. This was the artist's first foray into presenting sculpture. They are known previously for making video/ installation art. These mini sculptures were displayed, (but not sold), as one piece along a giant wall. The 50 or more wooly, Jute, straw, iron threaded natty and disheveled, highly engaging little personalities were hard to place or pigeonhole. They appeared ageless and indistinct, and yet they were highly unique. At first glance they were like scary little voodoo dolls. My mind, all at once, whirled with questions: Were they migrants? Were they ancient Vikings? Are they Homeless people with alert inquisitive faces? Are they alter egos for well healed art collectors? I asked someone at the booth about the possible reference or inference by the artists but was told " I don't know that they are meant to be specific. " Immediately, I mentally logged them as today's update to Fred Wilson's appropriation of Classical sculptures of divine human form. I loved these little puppet people as a most curious group and found that I stayed a long while in the booth to take them in one at a time. Each one was a gem, priced FYI at $5,500.
I will end with the booth from the Berlin gallery Societe. They had a huge wrap around corner stall of refrigerators housing the new hip meal replacement drink called Soylent. I lit up when I saw this because I was hungry and in need of nourishment. I was also excited because I had read about Soylent and was never able to try it because it is reproduced in limited quantity and hard to obtain. Only some privy, early on insiders were able to score cases of the touted beverage. I was told at the booth that this is why the artist, Sean Raspet, a flavor artist, chose this product to make his statement on the commercialization of the art market. Gotcha! I eagerly twisted off the top of the Soylent bottle and am sorry to report the taste is extremely bland. It tasted vaguely like something chalky from my childhood. Maybe it would be improved with a shot of Kahlua.For sure it needs something with a kick. After two sips I had to throw it out.
Words/Photos 4-8: Lizanne Merill © Artlyst 2016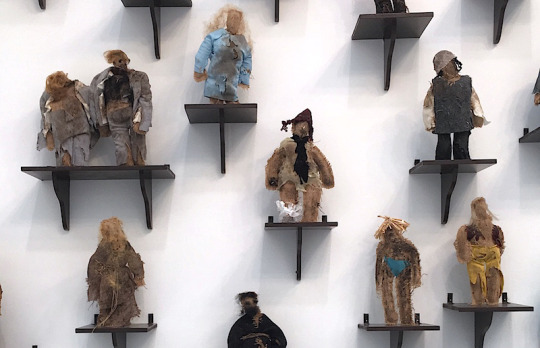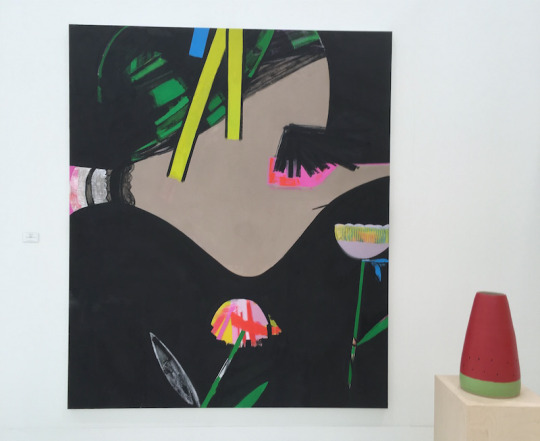 The Art Show Park Avenue Armory
Lizanne Merrill and Isa Freeling Artlyst's New York contributors were at the press view of 'The Art Show' at the Park Avenue Armory which they describe as "a completely different experience when the space is empty of visitors". At the early afternoon press preview-- while vacuum cleaners are roaring and booths are hung seamlessly, devoid of buyers or gallerists, it feels like one is stepping into an abandoned Museum. Was it something I said? When fully underway it's a packed venue where the phrase, "Excuse me." and "Oops did I step on your foot?!" are part of the territory.
The ghost town ambiance however, made this year's incarnation of 'The Art Show' appear vestigial. Wandering up and down the empty aisles there was very little to discover.
Yes, the ADAA sponsored art fair, which benefits The Henry Street Settlement, is known to offer primarily secondary market works of rare gem like status, or top of the line blue chip contemporary art, however this year's selection was particularly BLAH. The dead (or might as well be) though always genius, looked worn out. Who among the endless array of Warhol's, Rauchenberg's, Twombly's looked fresh?
There were some...
Mary Anne Martin Gallery had a small early Frido Kahlo that begged attention, as well as an early Francisco Toledo painting on paper that looked as if the paint had barely dried.
Betty Cunningham, had a booth devoted to the 'outsider' artist Bill Traylor. Even though he was born a slave in 1854 his work looked fresh and inviting. Raw and intuitive. Among the collecting circle he is 'trending.' Untrained naive uncomplicated veracity of emotion, is always timeless.
The best example of oldie but not moldy, was at the booth of the Donald Morris Gallery, which was devoted to the artist Bob Thompson. The booth was celebrating the 50th anniversary of Bob Thompson's death in 1966. Bob Thompson is a name most art insiders know, and he is present in every major museum's collection as an important example of an early 60's foray into psychedelic color. He died at age 28, and while his subject matter was figurative, his young eye was enthusiastically seeking shapes and compositions that suggest the splendor of pure color.
Of the artist 'newbies', presented in this year's show, the paintings by German artist Stephan Kurten, at Alexander and Bonin Gallery, depict architectural modernist homes.
They yearn for the 50's dream and promise. The same can be said for the tiny, precious meticulous pen and ink renderings by Filipino artist Jasmin Sian at the Anthony Meier Fine Art Gallery.
Her works are barely larger than 6 inches and yet they demonstrate, in fantastic detail, forest dwellings replete with the natural world untouched; with animals placed in the center of each picture, peacefully looking on at the world around of them, though one piece presented two elephants friskily making love. Thrown off for a moment, it was an amusing surprise. The subject and style are very reminiscent of medieval tapestries and ivory figures. The tiny fairy tale scenarios are not only drawn, but are also intricately carved out like paper doilies. Her medium: Deli paper and ink; from sandwich paper comes genius.
The most stellar, striking and cleanest offering at this year's fair, was at the Jack Tilton Gallery. They presented the work of singular sculptor Simone Leigh. The works are beautiful and alive while they quietly wait to be noticed lined up on a plinth. Excellently carved in wood, are head and neck portraits. The series is called Anatomy of Architecture, as the shape of the heads are inspired by the huts and traditional tribal houses one finds in Africa. Personified in female forms with particular homage created in hair, embellished with vivid colorful expression, her sculptures lit up with humor and joy. Simone Leigh is Jamaican born and delights us with her Afrocentric celebration of women, ironically as home.
We end this article with one of our favorite booths, Hirschl & Adler Modern where they are presenting a site specific multi-media installation called Tree Talk by Maria Elena Gonzalez.
Gonzalez made rubbings from the bark of trees. Seeing a pattern in the striations of the bark, she then translated into a code which was digitized and cut later into a scroll that could be played on an old-time player piano. The player piano allows the possibility of many notes beyond what the hand alone can perform at one time. Fortunately, Gonzalez was able to find an expert with a unique collection of very old Player Pianos and the ability to tune-in, so that tree music plays throughout the run of the 'Art Show.'
Words: Lizanne Merrill & Isa Freeling Images Courtesy Lizanne Merrill
Joseph Cornell: Enigmatic American Surrealist Artist Explored In New Film
I recently bumped into an old friend and filmmaker, Arnold Barkus. He told me about a film he is developing about the artist Joseph Cornell, with his longtime friend and collaborator, filmmaker Caveh Zahedi,. When I think about my top ten all-time favorite artists, Joseph Cornell instantly comes to mind. While the work is demure, quietly puzzling, and sometimes diminutive in size, it remains nonetheless unforgettable. As a teenager, I cherished his work. I would argue that Joseph Cornell, to all who know his work, is an artist who touches you on a personal level – to the point where one feels that the artist is speaking to you personally. That is why his work is only rarely seen at auction: people can't part with his boxed assemblages and collages so they remain in personal collections for life. Yet it surprised me greatly when I asked a few recent art history graduates if they knew of Cornell's work and they hadn't heard of him! For this reason, I find it increasingly important that Barkus and Zahedi have embarked on this project.
The film not only portrays Cornell as an artist, but also details the sexual psychodrama of Cornell as a man, who died at age 69, a virgin. The story will be anchored around the impossible love story between Cornell and a New York City coffee shop waitress named Joyce Hunter. Very little is known about Joyce. What we do know is that she ran away to New York at age 16, gave birth to a daughter at age 17, and was murdered at age of 21 by a mentally deranged man who had just been released from an insane asylum. Hunter had been Cornell's muse but she was also the thief who broke into his studio and stole his art to make money. After she was caught and arrested, Cornell paid her bail. When she died, Cornell picked out her coffin and paid for her gravesite. He was the only person who attended her funeral. He even sent his experimental filmmaker friend Larry Jordan to the nearby cemetery in Queens to make a film (Flushing Meadows, 1965) about her grave. Cornell later hired a detective to track down her daughter in the hopes of adopting her, but the detective never was able to find her. Researching the film, Arnold Barkus and his director and co-writer Caveh Zahedi managed to track down the daughter, amongst the many other previously unearthed facts about the artist.
Although the narrative film, The Sky Is Blue Like An Orange, will be a fictionalised account, the filmmakers are also planning to release a companion documentary that will round out the story and provide historical veracity. With regards to the narrative, the filmmakers are focused more on showing Cornell's iconic art through the prism of Cornell's love life, or rather lack thereof. It is a deeply romantic and tragic love story set within the early '60s art revolution, about a chance encounter between a reclusive artist and a rough-trade young gal. Cornell becomes obsessed with her. He gives her gifts of art. She and her boyfriend immediately sell the work behind Cornell's back. Cornell shows her some of his private art pieces, those using nude figures, and she offers to pose for him. When Cornell's dealer finds out that Joyce has been selling his pieces, Cornell feels betrayed by her and stops giving her gifts. So Joyce and her boyfriend break into Cornell's unlocked garage; steal a dozen of his prime boxes. Cornell's mother and art dealer insist on calling the police. Joyce gets arrested. Her three year-old daughter is put into foster care. Cornell feels terrible and regrets having called the police. He pays her bail and hires a lawyer to get her released. The filmmakers use this historical incident, reported at the time in the New York Times, as the turning point of the film, and hypothesize on the intimate relationship that might have occurred between the artist and his unruly muse.
It is fairly common knowledge, that Joseph Cornell was a shy, simple man, living his entire life in Queens, NY with his mother and caring for his cerebral palsy inflicted brother. I was aware, previously, that his renowned shadow boxes grew out of his desire to create toy-like amusements for his invalid brother. As a young art student, I would look at his work and admire the way his art could capture a curious moment of unspeakable wonder. He would put together simple incongruous objects, like a bird's egg beside an open window in an otherwise empty room. The small spare vignettes would always stop me in my tracks. I would stand before them and gently question my world.
 
Cornell is considered America's first real surrealist. He never went to art school or learned to draw and so he expressed his artistic urge through combining images he found in old books or magazines. His use of clippings and found objects inspired other artists to partake of the medium of 'assemblage.' Jasper Johns credits Cornell as his inspiration and had a Cornell box hanging in his entrance. Rauchenberg, Rosenquist and many other artists were likewise deeply influenced by and collected Cornell's unique and original work. It is said that Cornell's work is what spurred Warhol's media driven serial silk-screens of Jackie and Marilyn, the electric chairs and so forth. Warhol declared Cornell to be America's greatest living artist and he visited Cornell out in Queens numerous times. So did John and Yoko! And, when they all came to visit him at his modest home, he served them Jell-O.
Cornell was well revered and well loved. Yet he often declined requests for retrospectives - remaining humble and living frugally until the end. He became a devout Christian Scientist at a young age, perhaps to help cope with his brother's illness. His religion undoubtedly gave him a metaphysical orientation towards the physical world. Cornell saw through the tangible ephemera of the material world toward a truer spiritual realm of existence. His art was his attempt to point toward this ineffable metaphysical beyond by producing moments of epiphany, irreconcilable correspondences that transcend the mundane and reach for a more vast understanding.
Barkus and Zahedi will attempt to make a film ascetically commensurate with Cornell's own work. The goal is for the film to look and feel like a Cornell box dreamy, enigmatic, pointed, playful, sad and sometimes menacing. Zahedi is known in cult circles for his groundbreaking experimental cinematic style. There will be overlays, collaged footage, and split screen juxtapositions. Richard Linklater has signed on as executive producer. Linklater, the recent Academy award winner for his film Boyhood, may just see in this film another opportunity to study a young male, who in this case may not fully grow up.
The film's target audience goes way beyond what we refer to lovingly as 'the art world'. The story takes place in Cornell's imaginary mindscape. It will tell of a chaste man who creates art of aching beauty, all the while obsessed with secret longing for an unobtainable girl. Cornell had such a fervent imagination that compensated for his lack of experience and travel. He did a suite of boxes depicting hotel rooms in Paris, even though he never traveled beyond the New York area. Likewise, the filmmakers have mined their own imaginations to propose a script of fanciful 'what if's' in their dramatic retelling of Cornell's life.
Would Cornell have even made art if he had lived a life that partook of carnal pleasures? Perhaps not. Was his life, lived in his mind, a happy and satisfying one? Those are questions that perhaps will never be fully answered, but meaning can be gleaned from his last words to his sister on his death bed. He told her: "I wish I had not been so reserved."
Barkus and Zahedi are currently casting the film and planning to shoot late summer/early Fall 2016. They are actively seeking funding for this film and have reached out to some of the big players in today's art world. I am rooting for them.
Words: Lizanne Merrill © Artlyst 2016
Nostalgia And Longing Plays Out In Guggenheim's Photo Poetics Exhibition
I recently attended a guided tour of the new photography show at the Guggenheim in New York. The exhibition is titled Photo-Poetics and our guide was the artist and educator, Filip Noterdaeme. He spoke of this show as a grand 'adieu' to the medium of photography.
"Photo-Poetics: An Anthology" at the Guggenheim, curated by Jennifer Blessings, is a group exhibition featuring more than 70 works by ten artists, most born around 1975. Nine out of the ten photographers are women. They include Claudia Angelmaier, Erica Baum, Anne Collier, Moyra Davey, Leslie Hewitt, Elad Lassry, Lisa Oppenheim, Erin Shirreff, Kathrin Sonntag, and Sara VanDerBeek. The Israeli artist, Elad Lassry, is the lone male artist in the show.
At a time when everyone is snapping pictures all day long with their phones, and photography film has all but disappeared, this show questions, with longing, what has happened to photography as we once knew it. Each artist reflects on the medium of photography -- none of these photographers simply snap a moment in real time. All the photographs are studio made. Each image is carefully thought out. In many cases, you have to read the museum's wall text to understand the picture's context and subject matter. There are no ready narratives. Like poetry, each photographic image is offered as a thought, a suggestion, meant to trigger lingering contemplation. It's a very cerebral and conceptual show. I was glad I had a guide.
Filip Noterdaeme stood in front of a work by Ann Collier in which she had re-photographed a 1975 magazine advertisement selling cameras. He used this piece to illustrate what the entire show is all about. As Noterdaeme explained, fine art photography today is redefining the role of the photographer -- photography is no longer about spontaneously capturing a beautiful moment in time. Collier does all her shooting in a studio, with props. In her choice of props, she is acting as a curator. Her photos of other photos or her photos of photo books are meant to chronicle what is rapidly disappearing from photography. While her work is beautifully rendered, the images are presented coldly, with a scientific, clinical feel to each image -- scientific evidence of a past age.
The German photographer Claudia Angelmaier also takes pictures of pictures. And she too has removed any 'real time' setting or spontaneity from her work. Angelmaier photographs reproductions of reproductions. She backlights postcards found in museum gift shops and then photographs the back of the card. The postcards -- commoditized souvenirs of art, date from museum shows twenty years ago. The art work pictured on the card's front appears muted, only faintly discernible, while the caption information and museum insignia on the back remains fully legible. One of Angelmaier's images is of the Richter painting "Betty." While the captions on the back of the card are clear, only a ghostlike, barely visible image comes through from the painting depicted on the other side. "Betty" has been turned away from us. My sense is that Angelmaier is making a statement on photography -- both it's uses and abuses. Her work addresses the way we get our culture from reproductions, rather than the actual art. The photographs are soft, stirring and beautiful. Another piece of her's I particularly enjoyed was a wall of works, hung salon style. The wall had various framed etchings of rabbits. It's a funny riff on reproduction, considering how vehemently and rapidly rabbits reproduce.
Lisa Oppenheim has a series in the show called "The Sun is Always Setting Somewhere." This 2006 series is of photographs of sunsets that US soldiers in Iraq took and sent home. Oppenheim was living in Europe and was disgruntled with the wars in Afghanistan and Iraq. When she returned to the US she found the soldiers' sunset pictures on the image-sharing website Flickr. In each photograph, the artist holds up a soldier's photograph at arm's length, in front of a sunset she experiences in her own native New York. So in 'real time' the artist reshot the soldier's sunset images as the sun set within her world. She has cleverly married two moments into one. The series also provokes a train of thought as to why soldiers would take and send photos of sunsets. It's worth thinking about. She uses the soldiers' extremely seductive sunsets to bring the war home. Although the soldier images were all sourced from the internet, Oppenheim chooses to present the series through an old fashioned 35 millimeter slide projector, harking back to the one Nan Goldin used in the 1980's in her "Ballad of Sexual Dependency."
I personally was most drawn to Oppenheim's sultry black and white sky shots of voluminous clouds. They are curious and compelling. Wall text explains that these foreboding yet beautiful clouds are in fact the actual smoke that came from smoke bombs used in the Ferguson, Missouri protests. There are no protesters or police -- we know those images all to well from our media screens. Oppenheim instead tells the story of Ferguson with only images of the rising smoke.
The Photo-Poetics show is best summarized in the work of Elad Lassry -- studio shots of ordinary, mundane objects. Each clean, glossy photo is tightly framed in a thick, slick, colorfully painted frame. Lassry's constructed painted frames create an object out of the photographs. They feel like the boxes Joseph Cornell used to display and hold the objects. The most striking piece is called "Bengal' -- a full frame of a full-bodied cat. The cat peers out of the frame at the viewer in a way that confronts and also hypnotizes. We can't not look. There is no escape, no trickery, no forgery and the cat is not for sale. As the cat looks at us from inside his box, he seems to say 'take my picture.' As it turns out, our guide told us, Lassry's cat image is the most widely photographed image in the show. When he said that, I noticed the piece would look great on a phone. A photo of the piece would be a photograph of a photograph of a photograph! Like Gloria Swanson in Sunset Boulevard, this shows says that the aging medium of photography is ready for it's close up.
Photo-Poetics Guggenheim in New York November 20, 2015–March 23, 2016
Words/Photo Lizanne Merrill © Artlyst 2015
What Art Do The Artists We Collect, Collect?
I had a wonderful evening at 192 bookstore in Chelsea, listening to authors Stacey Goergen and Amanda Benchley talk about their new book, Artists Living With Art. The authors shared riveting stories about visiting top blue chip artists' homes and seeing what art artists themselves choose to collect. As someone who regards collectors as the unsung hero's driving the art world, this subject held a special appeal. Unlike many contemporary art collectors, artists are not buying art for investment. Artists have cultivated and confident eyes and are not 'wowed' by the retail value of a work of art. In fact, Brice Marden placed his Rauchenberg on the floor leaning against the wall in his dining room. The Marden's home, in Tivoli New York, like the other artists featured, present a showcase for the artists many years of worldly travel and varied artistic interests.
This new and stunning book, published by Harry Abrams, surveys 25 New York based artists' homes, through photographs and interviews of 10 women, 10 men and 5 couples. The authors considered also covering Los Angeles based artists but found it to be a very different city with very different light. As a result, the authors decided to hone their focus on a very "New York" asthetic. Even within that confine, there is an exciting variety. Some artists like Sol Le Witt have over 9,000 pieces in their collection, while someone like Tauba Auerbach, live in a meticulous sparse space. Rob Storr, in his forward, breaks it down, stating, that some artists have the collector gene, "many artists don't want clutter or visual noise around their personal living quarters".
Of course in many cases, artists have acquired artwork through doing trades with their colleagues. Cindy Sherman gave Chuck Close a portrait of herself as a nurse when Chuck Close was in the hospital. She felt grateful to him because he was one of the first people to see, purchase and support her work early on. Trading art work with other artists however can prove tricky in terms of establishing equal or unequal retail value, which then triggers 'gift tax' considerations. So, more often than not, artists actually go out and purchase art work. It is their pleasure to show their financial support for a younger generation.
Surprisingly, most artists do not hang their own work in their home, although in some cases a unique or very early piece of theirs will be found on display. Instead, artists tend to collect art that reflects and informs their practice. For example, John Currin has a late Picabia of a pin up girl right beside an old master drawing. Chuck Close has shelves lining his foyer filled with tightly cropped head and shoulder portraits all done by other artists. Andre Serrano, who lives in a duplex in the village, has paneled his home with limestone from old churches. He creates a very gothic ambiance with religious icons and old oak doors. There is a stillness in his home that mimics the quiet stirring nature in his photography. Laurie Simmons and Carroll Dunham live in what could be described as a doll house.
What do artists like Joan Jonas, Glenn Ligon, Cindy Sherman and Mary Heilmann have in common? Chinese scholar stones! Almost all the artist homes display relics from nature that have formed over time. Begs the question of art's relation to the creativity of nature. There is also a proliferation of ceramic and textile pieces in many of the artists collections. You may wonder if there are specific artists that seem to crop up in a majority of collections. The answer is yes. Ray Johnson, Kiki Smith, Alex Katz, Lisa Yuskavage and a relatively unknown color field painter Steve Mueller, are among a few of the names most artist's own.
Artists Living With Art is a beautifully produced book, filled with gorgeous interiors that make you salivate as well as ogle over the who's who in who's house. Even the artists who participated were anxious to see the book's completed publication. They too, share the simple intrigue and salacious pleasure of seeing the private collections and homes of today's great artists.
Words/Photo: Lizanne Merrill © Artlyst 2015
Japanese Painter Noritake Kinashi Opens First US Solo Exhibition
Last week marked the opening of Japanese painter Noritake Kinashi's first solo exhibition in the United States, at the Japanese gallery 'hpgrp' in New York. Noritake Kinashi is foremost a famous comedian in Japan, with his own tv show and cult following. On top of this, Noritake has been painting for the last twenty years and has been shown widely in Japan. He currently has a a major exhibition of 300 works touring 6 museums throughout Japan. When the Ueno Royal Museum in Tokyo had his show last year, it was the third highest daily turnout in the Museums history. First Picasso, then Dali and 3 rd Noritake.
When I entered the gallery I felt the work was very lively and invigorating. At first glance, the paintings seem remarkably childlike. They carry a colorful and happy glow. Noritake is clearly untrained and a "primitive" painter but, the more I looked at the show in its entirity, it became more and more apparent that the technical simplicity of Noritake's paintings is deceptive. There lies something very stirring beneath the surface.
The show begins with four small paintings of Mt. Fuji, that to me, act as a metaphor for the entire show. Pretty on the outside while underneath there lives a churning force. This prompted me to think about what it means to be a comedian. Aren't they known for using mundane jokes as a way of saying something deeply personal and painful?
Noritake's early works are small 8x10 inch paintings. There are a few works depicting freestanding lonely single houses. He paints with impasto strokes and mixed media. They stand isolated against a colorful background. His recent paintings however, are much bigger and more ambitious. These transform into 6 foot long works of sprawling crowded city scrapes, energetically painted. The vista of buildings are built up in texture and are highly reminiscent of DuBuffet.
Mixed in with his architectural exteriors are an ongoing series of works depicting hands. The painting attached is titled Reaching Out. Its dark gestural under painting is topped with a pattern of hands, in a style that picks up where Kusama left off. I couldn't help but wonder if the sea of hands in this painting were in some way related to Noritake's everyday reality of seeing the hands that clap for him as a celebrity comedian. Amazing I thought: that he can be so emersed in the public eye and yet also be creative, quietly in his own studio. While I've never seen his comedy talents, I can say as a painter, I think he is a sincere and true artist.
Words/Photo (Detail) : Lizanne Merrill © Artlyst 2015
The New Raj: The Rise Of Indian Artists And Their Collectors
As an art adviser and avid collector, I keep my ears perked for rumblings of what's trending and 'what's new' in the market. With that in mind, I attended a panel discussion last week in NY at Christies on the subject of Contemporary Indian Art. The event was co sponsored by Barron's Penta magazine editor Richard Morais , who had just featured a lengthy article in Penta on the subject. There were two Collectors of Indian art on the panel as well as the South Asian art expert from Christies. One of the collectors , was an all around American , from the heartland, Nebraska, and the other collector was an expat, originally from India and now living in San Fransisco. Everyone was very excited and enthusiastic about the sunny horizon of what is coming up culturally right now in India.
India's booming economy is also producing innovative and unusual art, even by Western standards. As we all know, social and cultural churning is what propels good art.
The budding of a sexual revolution and new gender politics, are surfacing onto the canvases and performances of today's Indian artists. Previously, any public display of affection was to be kept as a private matter, ( think of how Bollywood's expression of sexual urge is couched in singing and dance routines ). Well, overt sexuality is now creeping onto the center stage of India's contemporary cultural scene and into the frequently narrative nature of their arts.
There is a high level of intellectualism and personal expression in artists such as Bhupen Khakhar who's colorful paintings transmit an erotic fantasy. In the 1970's , Bhupen boldly gave up his career as an accountant at age 38 and began painting. He used this platform to openly declare he was gay. He is considered to be the back bone for every young Indian artist today. The Tate Modern will be mounting a major retrospective of his works in the spring of 2016.
The modern/contemporary Indian art scene has had its starts and bumps since the country's independence in 1947. Initially, the Bengal region produced a sensual, expressive pan Asian style of painting that moved away from the traditional miniatures, and any British cultural influences. Instead, the 'Modernist ' movement was informed by Japanese art as well as Western influences. The poetic greats of this period were lead by the painter Tagore, and artists such as Jamini Roy and Gopal Ghosh are well known and well treasured internationally today. After the the country's independence in 1947, Indian artists sought to further assert their new nation's culture into ever more untraditional styles and explore new idioms. A wonderful band of artists emerged. They became known as the Progressives. Abstract painting in India flourished.
Today, new media reigns. There is performance art by Nikhil Chopra, who dresses as different characters centered on India's colonial past. He blurs the lines of theater and merges the performer with the audience in an audacious immediacy. He is also a painter. Raqs Media Collective formed in 1992, employ their background in film, in installation works that have been exhibited in Documenta and applauded globally.
While prices skyrocketed for the nations new modernists and progressives during the 1970-2000, they also fell in the secondary market auction sales by 3/4,in 2008 when the bubble finally burst. Ironically, and unlike China, there are only 25 major blue chip art collectors living in India itself. The Modern and Progressive secondary market is now bouncing back with an economic growth in India, it's diaspora, and consumers in the Mid East region. But, it is happening slowly.
Today, however may be a tipping point and the dawn of a healthy verve for the contemporary Indian art market. There is much interest and investment coming from outside India. Outsiders see something that the native culture, who have it under their nose, don't see. Collectors from all over the world now go to India and snatch up works by the dozens! Collectors, such as Marc Le Baron , from Nebraska , visit India with keen interest. Guided by an expert in the field, Birgid Uccia, Mr Le Baron along with another top American Collector visited artist studios as well as galleries in India. They bought over 25 works in one trip. One interesting fact, and a head's up for buying painting directly from an Indian artist's studio : the rainy season and extreme heat can pro long the oil paint drying on the canvas for up to two years! There is also a heavy surcharge in tax when taking art out of the country. That hasn't seemed to stop anyone.
An International audience goes beyond the native Indian market that previously collected with a sense of nostalgia. Christies is excited about the new Indian art movement. They too are scouring the region looking for young talent ready to launch. Christies is planning an emerging and very contemporary primary Indian art auction in early 2016. Their auction will include art works well under $10,000. The art world is looking to see who will tell the visual story of India today.
Words: Lizanne Merrill © artlyst 2015 Photo via Twitter
Frieze New York 2015 Round-Up Ponchos and Big Bucks Exchange Hands
The art world is a very robust entity and even after the highs of the 56th Venice Biennale, which opened on the 10th May and the first billion-dollar week of sales at Christie's. Who in their right mind would think that there would still be room for Frieze New York, out on the wastelands of Randall's Island. Artlyst's Lizanne Merrill has the lowdown. The Frieze Art Fair has brought international, contemporary art from today's top working artists to the New York scene since 2012. This year's Frieze featured more than 190 galleries from around the world, all setting up shop on Island Park. collectors including François Pinault, the French owner of Christie's, were at the entrance of Frieze New York Wednesday for its VIP preview day.
Pia Camils' Free handmade ponchos (see top photo) were interesting as a performance piece and metaphorical statement. She turned the 1% of the 1% richest consumers ,dropping buckets of moola on the latest precious art - into a herd of sheep queuing up for free garments sewn from scraps-. It is ironic in so many ways, least of all that these very showy designer exclusive tony types draped themselves like Bedouins at the fair. Of course, I got one - (yay) The patchwork capes were already adorning many a well heeled VIP - when I got to the preview just after noon. After noticing that all these people were walking around wearing ponchos, I was like - "what is this? " ( Answer: an artist made cape) "Where did you get that?" ( Answer: they are giving them out free ) Where? ( answer: at a booth near the south entrance ) I quickly become possessed with a shaking single minded determination and walked the 250,000 feet, or the length of three football fields to the south entrance because "I have to have one!"
There was a long and quite static line to get them. As I was ( impatiently) on it Arnold Lehman ( head director of Brooklyn museum) asked my friend , (who already had a cape) if She would be so kind as to cut the line on his behalf bearing his business card and get him one. Mr Lehman was sporting a cane and said to say 'my friend who is crippled would like a cape but can't wait on line' I grabbed his card - darted up to the front of the 3 thick, 50 deep, Line - I found the artist who was giving out the ponchos and explained to her about the director of the Brooklyn museum. I grabbed a cape for myself and asked her to pick one she thought would be good for him and ran her over to Arnold Lehman to present it in person and take a cape clad picture of them both ! Yay!
In retrospect, the poncho, much like a pretty sombrero you may have admired and bought on vacation in Mexico, will not make it onto my being along the urban streets. Hahaha. I will hold on to it though, as a momenta and memory of the culture I witnessed this year at Frieze.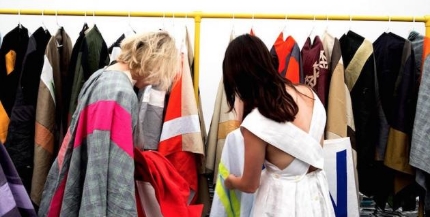 Whitney Museum Chelsea: A Culturally Responsible New Yorker's First Impression
I took advantage of the member preview days before the actual May 1st launch to visit the new Whitney Museum in Chelsea.
As an art enthusiast, a mid-level aesthete and a culturally responsible New Yorker I have attended important exhibitions at the major New York museums for over the last 30 years. So I felt it my duty to familiarise myself with the new Whitney venue as soon as possible as I am sure it will become, by default, an important artistic landmark in my New York life.
Admittedly it wasn't the inaugural exhibition from the permanent collection that attracted me to the museum While I have to say the layout, curatorial cadence and visual appeal of the overall exhibit was lovely, the show itself was basically a snooze and something I would most likely have missed in my culturally responsible New Yorker schedule. I wanted to see the building.
My urgent need to see the building made me muse on the role of museums in my life! Museums are repositories of something much larger than the art offered up to visitors. They are non-sectarian ecumenical temples of contemplation. For the price of admission you are guaranteed the opportunity to expand your understanding on a given time period or avant garde philosophy or one artist's outpouring of soul. I have always welcomed getting the education as well as the respite from the mundane daily drudgery of my thinking. Regardless of what is being presented, a personal private part of myself is always unleashed, and roams freely through the given exhibit.
To that function, the new Whitney is a grande success. Light pours through from skylit ceilings as well as from the large multiple windows on the end cap of every floor. There are unusually large veranda-like terraces on every floor that are welcoming. During the nice weather I am sure they will become a destination for inspirational hanging out. I say inspirational because unlike a bench in a mall used to rest for a minute, the Whitney's elevated outdoor overlooks suggest a place for reflection. The open river view on one side of the terrace as well as the lower Manhattan rag tag rooftops on the other side cause one to stop and place your life in the greater scheme of life. Will the grand views overpower the art inside? I doubt it. They will instead be the breathing space to absorb and integrate what has been just seen into our precious personal space.
Words/Photo Lizanne Merrill ©Artlyst 2015
Johannes Vanderbeek Zach Feuer Gallery
The Zach Feuer Galley opens this season with a show of new works from sculptor Johannes VanDerbeek. There are cast wall works made of clay and resin with subtle warm and cool neutrals painted on top.The wall works have the texture and primal impact of cave drawings.
Also along the walls are simple gestural drawings made from steel wire twisted into human forms. They have the freedom and fluidity of Mattise's late figurative expressions. while the wire armatures lean against the wall, scattered around the galleries are stand up sculptures that reiterate a very primal and textural use of clay and color. It is a very integrated installation blurring the boundaries of two dimensional 'paintings' and three dimensional sculpture.
All the works suggests human and animal forms rendered with a non western style found in primal African masks. Following the birth of his daughter, VanDerBeek became interested in how his baby daughter may visually experience her exploration of the world. He parallels her innocent perceptions with the neo-primative arts created at the dawn of our human empires. To quote the gallery press release "These objects require looking, and provoke questions about how physicality can emulate shifting mental states." I may add they are all stunningly beautiful.
Words: Lizanne Merrill © Artlyst 2014
Johannes Vanderbeek 'Early Hand' - until 4 October